Font Directory Pro + manual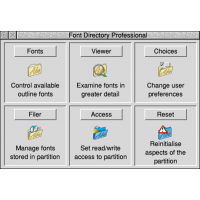 Product code:
EA-752-0
Availability:
7
Price: £22.50
Ex VAT: £18.75
Font Directory Pro is a system for managing outline fonts for RISC OS, originally produced by LOOKsystems.
The main applications in the current version, FontDirPro 3.23 (24-Jun-18), are
Font Directory (to search and control the active fonts)
Font Sets Editor (to group fonts)
Font Viewer (to preview fonts in a given colour, weight, and style)
Font Filer (front end to FontFS with dynamic font partition resizing)
Choices editor (customise application preferences)
Access control (password protect your font collection)
Reset control (to wipe fonts or sets previously installed)
Suitable for RISC OS 3, 4, 5, or 6. Each copy includes a printed copy of the 108 page Font Directory Professional User Guide, installer, and 2 support tokens which can be used to ask technical support questions.
Read more in the product brief, or contact sales to receive a printed copy.
Please note that to qualify for an upgrade from an earlier version of Font Directory Pro you will be contacted prior to despatch to validate your existing registered copy (by email).