CloudFS filing system + manual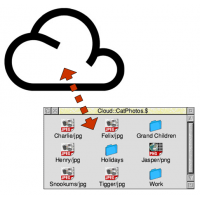 Product code:
EA-570-7
Availability:
5
Price: £28.80
Ex VAT: £24.00
Native RISC OS filing system module which connects to cloud based storage, allowing you to share files on any supported device and at any location with an internet connection.
The main features in the current version, CloudFS 0.34 (31-Mar-23), are
Filing system

Uses the familiar OmniClient as the desktop filer interface
Appears as an extra drive icon on the left of the icon bar (one per user login)
Standard command line interface
Individual files up to 4GB in size
Integrates with the MimeMap module for file type deduction

Supported providers

Initially pCloud based in Switzerland
Up to 10GB of free storage space
Low monthly fees if more space is needed
Versions for Windows, Linux, Android and iOS also available
Can also be viewed through a web browser
CloudFS' internal design allows for other popular cloud service providers to be added in future
Each copy includes a printed copy of the Cloud Filing System User Guide, installer, and 2 support tokens which can be used to ask technical support questions.
Read more in the product brief, or contact sales to receive a printed copy.
Please note that versions of RISC OS prior to 5.20 will instead have a 2GB file size limit. Files are transferred as needed directly over the network, so a fast internet connection of 2Mb/s or better is recommended.
There are many cloud storage providers offering different packages and features, some tailored at businesses synchronising important documents across different sites, whereas others are for sharing family photos with relatives for example. Below is a side by side summary of the best in 2018 according to independent reviewers Cloud Pro.
Provider
Accessible from RISC OS?
Native RISC OS client?
One off costs
10GB storage per year
Syncplicity
No
No
£0.00
£0.00
pCloud
Yes
CloudFS
£24.00
£0.00
IDrive
No
No
£0.00
£51.48
Mozy
No
No
£0.00
£59.88
Amazon Cloud Drive
No
No
£0.00
£55.00
Apple iCloud
No
No
£0.00
£9.48
Box
No
No
£0.00
£96.00
Microsoft OneDrive
No
No
£0.00
£23.88
Google Drive
No
No
£0.00
£0.00
Dropbox
Yes
Requires Python 2.7.2
£0.00
£78.96
Sync.com
No
No
£0.00
£36.29
For comparison purposes although Box offer a similar 10GB plan for personal use it is limited at 250MB per file, so the nearest paid for plan is compared. Prices correct as at June 2018, converted from 1.35 USD to 1 GBP where no sterling prices are given. Excludes promotions and introductory offers. Providers offering time limited storage followed by a payment only plan have not been compared.