Titanium technical reference manual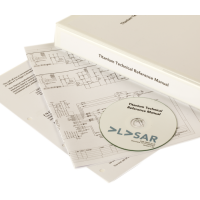 Product code:
ES-936-4
Availability:
1
Price: £37.00
Ex VAT: £37.00
Printed technical reference to the Titanium motherboard. The definitive guide includes over 50 pages of technical detail, from architecture to connector pinouts and an individual component level bill of materials. It is supplied in a durable white PVC folder, with the oversized drawings held in pockets to the rear.
Please note that this edition covers the revision 0.20 main board and revision 0.11 mezzanine board only, be sure to check that this is correct before ordering.
Contains
A4 printed technical reference
Fold out schematics A3 size
Fold out engineering drawings

Test point locations
Mechanical dimensions
Component assembly locations (top)
Component assembly locations (bottom)

Datasheets and reference material on CD-ROM