Titanium motherboard + Linux operating system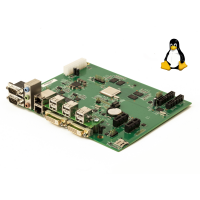 Product code:
EH-114-2
Availability:
12
Price: £498.00
Ex VAT: £415.00
10 or more £480.00
20 or more £468.00
60 or more £444.60

Featured on Linux Gizmos in February 2016, the Cortex-A15 based Titanium has been shipping since December 2015.
Don't be held back trying to use inconvenient development boards that don't fit your case or your requirements.
Standard ATX form factor drops straight into standard chassis
Solid state design with fanless passive cooling
Texas Instruments Sitara AM5728 with 2GB of fast DDR3
An array easy access I/O - gigabit Ethernet, DVI-D, SATA, USB 2, PCIe, RS232, 24 bit audio
Turn key operating system support
Read more in the product brief, or contact sales to receive a printed copy.
Cortex-A15 motherboard based around the Texas Instruments AM5728. Starts up from U-boot 2019.07 preprogrammed into the on board boot flash, then loads Linux 4.14 with Debian 10.4 (Buster) root file system. Includes a pre-installed XFCE desktop and Firefox web browser.
Main features
AM5728 system on chip

Dual core 1.5GHz Cortex-A15
Two dual core 212.8MHz Cortex-M4
Two 750MHz TMS320C66x digital signal processors

Memories

2GB DDR3 up to 533MHz
2.5MB on chip SRAM
Micro SD card socket, 4 bit
8MB serial boot flash

Video

2D graphics accelerator
3D graphics accelerator, a dual core PowerVR SGX544
Separate DDC to retrieve EDID data from each head
Dual head DVI-I video, each able to deliver 24 bit colour at 1920 × 1080 @ 60fps

Audio

Stereo microphone in
Stereo headphone out
Two stereo line inputs
Mono downmix to 8 ohm speaker

I/O

Dual gigabit 802.3 Ethernet
Dual RS232 serial for industrial control
Four 3Gbps SATA connections
Eight USB 2.0 type A ports (6 on board and 2 via front panel, not supplied)
Two PCI Express root complexes
Battery backed real time clock
2kB configuration EEPROM memory
64B unique OTP ROM for OEM use

Debug support
Each board includes a printed copy of the Quick Start Guide, a CR2032 coin cell, micro SD card, and 3 support tokens which can be used to ask technical support questions.
Requires an ATX12V version 2.3 or later power supply, with 20 way Molex Mini Fit Junior mating connector. The power supply is turned on by a front panel push button, and can also be turned off by the same button or under software control.
Please note that the SKU describes the revision 0.22 main board and revision 0.11 mezzanine board only, be sure to check that this is correct before ordering. Not all hardware features may be used or supported by system software.
| | |
| --- | --- |
| • | Build system |
| | Description of the build system to build U-Boot and a Linux kernel suitable for deploying on the Titanium motherboard. The U-Boot and kernel repositories are similarly hosted by GitHub. |