ATX12V 250W power supply unit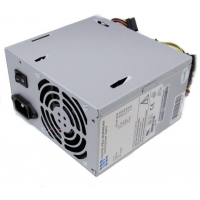 Product code:
ES-466-5
Availability:
1
Price: £36.00
Ex VAT: £30.00
Standard form factor ATX power supply suitable for use with the light load that a base Titanium motherboard presents. Also able to deliver up to 250W continuously (split across all supply outputs) this power supply can run even a fully loaded Titanium with all expansion ports at their maximum current draw.
Supply output connectors

1× 20+4 pin main motherboard power connector
1× 4 pin ATX12V auxilliary motherboard power connector (unused by Titanium)
2× 4 pin Molex drive connector
2× SATA drive power connectors

Single 80mm diameter fixed speed cooling fan
200-240VAC, 50Hz IEC inlet and mains on/off rocker switch
Active power factor correction
ATX form factor (140mm d × 150mm w × 86mm h)
Please note this power supply is not autoranging and therefore is not suitable for use on 120V supplies.