AMCOG Games bundle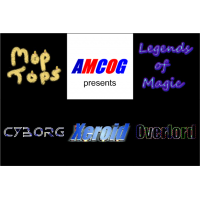 Product code:
EA-039-0
Availability:
1
Price: £35.00
Ex VAT: £29.17
A selection of five titles from developer AMCOG Games each with original sound track. Pit your wits against games of varying skill and theme:
Cyborg - treasure hunt round a castle as a cyborg (RRP £9.99)
Legends of Magic - banish the evil wizard from the island (RRP £7.99)
Mop Tops - save the balls of fuzz from various levels (RRP £9.99)
Overlord - shoot your way through deep space (RRP £4.99)
Xeroid - swerve along the highway avoiding black holes (RRP £9.99)
Delivered on CD in a durable plastic case. This item requires RISC OS 5.